"… the standout experience is an audiovisual installation by Kathy Hinde: an ingenious music box, in which video of flittering birds on six electricity lines becomes an ever-changing score, their come-and-go presence triggering cracks and clicks in the guts of a piano mechanism. It's somehow completely alive, and you could relax in its company for hours."  Venue Magazine
PIANO MIGRATIONS INSTALLATION
The inside of an old upright piano, is recycled into a kinetic sound sculpture. Videos of birds are projected directly onto the piano to provide an ever-changing musical score. The movement of the birds trigger small machines to twitch and flutter on the piano strings. In this work, nature controls machines to create delicate music.
Download technical information for this installation as a pdf here and high resolution images here.
"The best work of the festival, however, was an unassuming installation in the foyer of the Scottish Music Centre. In Kathy Hinde's Piano Migrations, a piano becomes a bird cage  (or should that be a Cage bird)…"  The Arts Desk review from Sonic-a Festival, Glasgow.
PIANO MIGRATIONS PERFORMANCE
The installation can become a site for a live intervention, changing from an installation to a live performance. Kathy Hinde mixes video projections live to activate the piano strings in different ways. She is joined by Matthew Olden, performing with his own custom made live sampling software. Together they create a captivating performance where image becomes sound and sound becomes image through a series of transformations realised through acoustic sound, live sampling, automata and projections. Here are some extracts  from a performance recorded at Lab30 Festival, Augsburg in October 2012
PIANO MIGRATIONS WORKSHOP
A Piano Migrations workshop generates an opportunity for members of the public to drop in to create a musical score from a journey. A map of a route they choose is printed out for them to punch holes into – which can then play melodies on a winding Music Box.  A popular event with families; here is a short movie made at the Merlin Theatre at Frome Festival. The music box can be exhibited alongside the installation as the accompanying work 'Music Box Migrations'.
Kathy has developed an online version of the Piano Migrations music box workshop with digital artist Ed Holroyd which can be visited and played with here.
Music boxes mechanisms like this can be bought online from Grand Illusions.
Top image © Bruce Atherton and Jana Chiellino 2010.  All rights reserved.
Below, images taken by Kathy Hinde of the Installation at Almost Cinema Festival, Ghent, October 2011.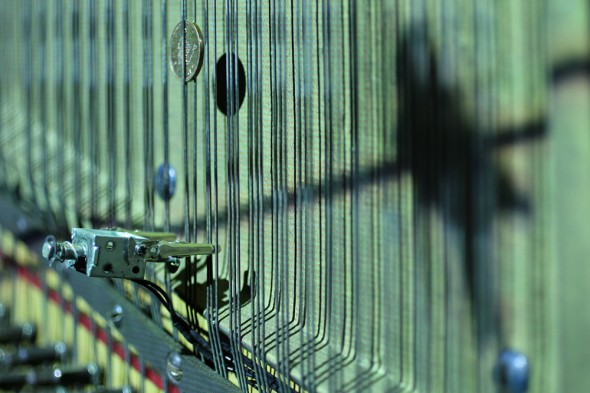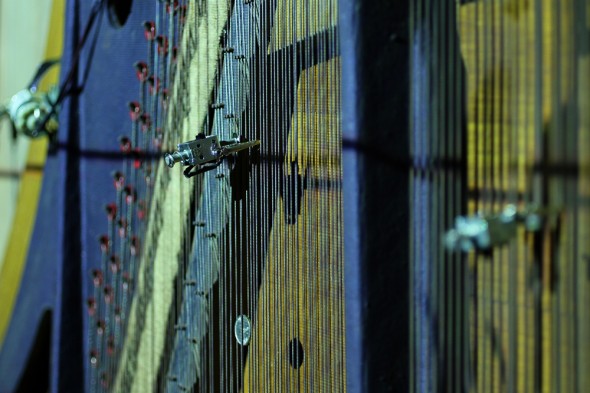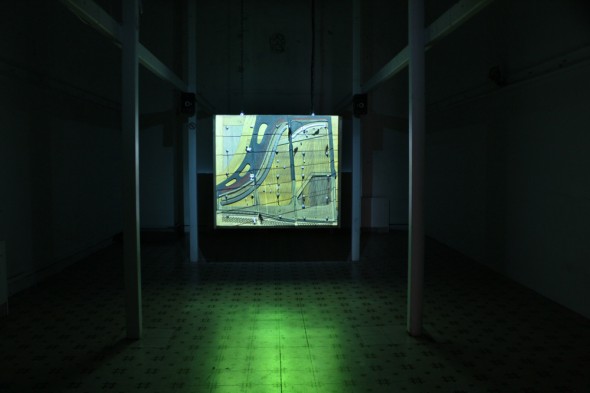 The installation has previously been shown:  Almost Cinema, Ghent, Belgium; Mostra Sesc De Artes, Sao Paulo, Brazil;  Deloitte Ignite, Royal Opera House, London;  Concrete and Glass Festival, 20 Hoxton Square, London;  The Merlin Theatre, Frome;  The Bluecoat Arts Centre, Liverpool; The Arnolfini, Bristol;  SHUNT, London;  OVADA, Oxford.
Images of the installation at SESC Mostra De Artes festival, Sao Paulo, Brazil in Nov-Dec 2010; and at 20 Hoxton Square Gallery as part of Concrete and Glass Festival, London, May 2010.